Y'all. I'm tired.
I took baby sissie (/Sister in Law) to see Lianne La Havas at Largo at the Coronet last night.
I mentioned it yesterday, but lemme tell you:
I found her by accident because Pandora did it again
but this time I was all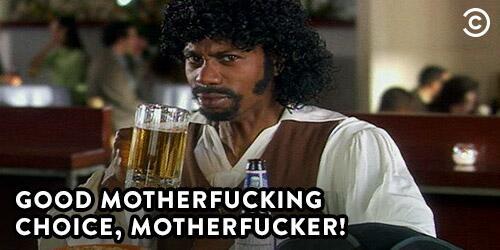 And then I was like WHO IS THIS BECAUSE HER VOICE IS AMAZING?!
A few months later, The Fonda e-mailed me like, Yeah, hey, so she's gonna be here tomorrow.
I was like, "No shit?! I'm gonna buy me some tickets and go"
So I did.
And because this is the 21st century, I also instagrammed it.
And baby sis was like WHY DID I NOT KNOW YOU WERE DOING THIS?
Answer: Because I'm impulsive and didn't know I was gonna go 'til I went
Also true: I had no idea that anybody even knew who she was.
ANOTHER TRUTH: My brother married a combination of his sisters, so I totally SHOULDA known that she'd either heard of her or would like her.
ANYWAYS.
I try to buy gifts that I know people will like, since I'm not especially a fan of gift cards unless you're a pre-teen because they are quite possibly
the hardest people in the entire world to shop for because they liked it yesterday but today they don't because they're not babies, they're 12 FFS and I couldn't possibly know about anything cool.
("For Freaks Sake" because I would pop a 12 year old dead in the mouth for saying FUCK)
(Yeah, I said it. And I totally mean it. Ask any one of my nieces. Or nephews. Or even/especially? my kids.)
(also #GETOFFMYLAWN)
So when I was frantically buying Christmas gifts because of COURSE I wait to the last minute to do my shopping, I got ANOTHER e-mail.
This time from Largo at The Coronet. "Hey, so Lianne La Havas is BACK in town next year and you should maybe come see her"
And I was like, FUCK YEAH ( 'Cause I'm grown)
I SHOULD. IN FACT, I SHOULD TAKE MY SISTER IN LAW.
[I don't know about you, but I am of the "one gift for you, one gift for me" kind of shopper]
We had a GREAT time.
I'd post video only the Largo has a no phone/camera policy*
Which is awesome because I didn't have to worry about some asshole who never put his phone down and also didn't care if he was blocking my view.
But not awesome because she sang this and it was amazing and if I coulda gotten some footage of that I woulda but instead here's today fact:
In 1987, Aretha Franklin became the first woman to be inducted into the Rock and Roll Hall of Fame.
Sometimes your facts are short and to the point.
Today is one of those days.
[My stories are always long and rambly. So sorry I'm not sorry]
But I would be remiss if I didn't leave you with some of the Queen of Soul's music,
So. Did you know that she once pinch hit for Luciano Pavarotti?
Also please to enjoy one of my favorite songs [She was one hot mama!]
That's all folks! I'm off to enjoy my weekend which for a change will include Monday.
So don't be looking for a fact. It won't be there.
*I have a policy, too. I DO WHAT I WANT.


[taken in the venue immediately after he said don't do that]