So this one time a favorite patient gave me tickets to see the Foo Fighters when they were doing their acoustic tour at the Pantages.
[I bet some of you were wondering was I gonna manage to sneak my favorite band into a BHFOTD. Don't I always?]
It was amazing. As usual. And fun.
Afterwards, I somehow got separated from my concert buddy and I was looking for her and somehow I wandered back to the "industry party"
And as I was looking around trying to figure out why I'm standing next to rock stars and other people who looked appropriately rock and roll,
I realized that I was NOT supposed to be there.
Strangely enough though, nobody ever said anything at all to the random person just walking around not looking very rock star at all.
[I've found that if you are ever "the only" of a person, people just assume you belong there because why ELSE would you be there, sore thumb?]
[Except that one time that me and a friend crashed a BET pre-party for the Grammys. We definitely got kicked out of there]
[Which is kinda weird because I was DEFINITELY not the only black person. But I guess I was the only one who had a lunch bag. And a work badge]
Which is COMPLETELY unlike the one time Nesto wandered into a place he didn't belong.
The story as I heard it:
"This club had two rooms: one that played top 40 (which was the best this little club could do) and the country western music room.
I went over to the other room because I wanted to see what kind of music they played in there.
When I walked in, it was like a record scratch:
A bunch of dudes, complete with cowboys hats all turned around in unison to look at me.
I could actually HEAR the nooses fall to the floor."
This was before yelp, obviously.
I mean, how do you rate that?
"Mixed crowd on one side; Klan rally on the other. 3 out of 5 stars.
Extra star because it was the only civilian bar you could go that played something besides country"
I should also mention this was 1990-something.
Not 1960.
Because THEN he could've bought The Negro Motorist Green Book
What's that, you ask?
WELL. The Green Book, as it was called, was an annual guidebook for African-American road trippers.
It was originated and published by New York City mailman Victor H. Green during the Jim Crow era, when open and often legally prescribed discrimination against non-whites was widespread.
Although pervasive racial discrimination and black poverty limited ownership of cars among African Americans, the emerging black middle class became car owners.
Many black folks took to driving, in part to avoid segregation on public transportation. As the writer George Schuyler put it in 1930,
"all Negroes who can do so purchase an automobile as soon as possible in order to be free of discomfort, discrimination, segregation and insult."
AND.
Until long after the Civil Rights era (1955–1968), black travelers in the United States faced major problems to which most whites were oblivious. [quelle surprise!] White supremacists had long sought to restrict black mobility. As a result, simply going for a drive was potentially a dangerous undertaking for black people.
They were subjected to racial profiling by police departments ("Driving While Black"), faced being punished for being seen as "uppity" or "too prosperous" if they were driving a car (an act that many whites regarded as a white prerogative), and risked harassment or worse on and off the highway.
Black Americans employed as athletes, entertainers, and salesmen also traveled frequently for work purposes and faced a variety of dangers and inconveniences, such as:
• white-owned businesses refusing to serve them or repair their vehicles
• being refused accommodation or food by white-owned hotels,
• threats of physical violence and forcible expulsion from whites-only "sundown towns"
Green founded and published The Negro Motorist Green Book to tackle such problems, compiling resources "to give the Negro traveler information that will keep him from running into difficulties, embarrassments and to make his trip more enjoyable." While the Green Book was intended to make life easier for those living under Jim Crow, its publisher looked forward to a time when such guidebooks would no longer be necessary. As Green wrote, "there will be a day sometime in the near future when this guide will not have to be published. That is when we as a race will have equal opportunities and privileges in the United States. It will be a great day for us to suspend this publication for then we can go as we please, and without embarrassment.
*taps foot and looks at watch*
*stares off into the distance and continues to wait*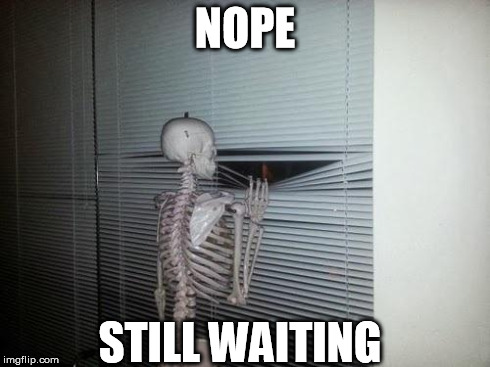 Anyways.
The 1966 edition was the last to be published after the Civil Rights Act of 1964 made the guide effectively obsolete, by outlawing racial discrimination in public accommodations.
And since racial discrimination was outlawed, we were all free to move about the country.
I'm not even gonna crack a joke about racial profiling.
I'm just gonna say WOO! Post racial America! Fuck you Yeah!