It's 57 degrees in California which is equivalent for Californians to the polar Vortex in the Midwest, so what else would I be talking about except… baby suits. (Bathing suits for those who don't know that when spank was learning to talk she couldn't pronounce BATHING SUITS and it stuck.)
Here's where I'd normally post a picture of me in a baby suit. BUT INSTEAD, Imma post the reason you're not gonna get that:
(My SIL understands me AND my boobs)
That's right kids! It's the first day of Black History Month and I'm kicking it off by talking about how my boobs don't know how to stay in their assigned seats! And if you're new here (and you might actually be! I added some suckers new friends to the list this year!), WELCOME. Welcome to "Lookit Stuff Black People Did/Do" Month via a somewhat questionable peek into my brain.
And if you're NOT new here, then WELCOME BACK, and you know that even though I said this post was about MY boobs, you know that it's really not. It's about Janet Jackson. (That part you probably didn't know, but that's why *EYE* write the facts and not you), which is kinda perfect since the Super Bowl is this weekend and I'm not gonna guarantee y'all a Super Bowl post because I still haven't been supporting professional football and MIGHT NOT watch the game.
Anyway. Back to Janet. Ms. Jackson, if you're me nasty.
Janet Damita Jo Jackson, the youngest child of the Jackson family, is a singer, songwriter, actress, and dancer. A prominent figure in popular culture, she is known for sonically innovative, socially conscious and sexually provocative records, and elaborate stage shows. She began her career with the TV series The Jacksons (1976) and went on to appear in other shows through the 70's and 80's, including Good Times and Fame.
After signing a recording contract with A&M Records in 1982, she became a pop icon following the release of her third and fourth studio albums Control (1986) and Rhythm Nation 1814 (1989). Her collaborations with record producers Jimmy Jam and Terry Lewis incorporated elements of rhythm and blues, funk, disco, rap and industrial beats, which led to crossover success in popular music.
In 1991 Jackson signed the first of two record-breaking multimillion-dollar contracts with Virgin Records, establishing her as one of the highest-paid artists in the industry. Her fifth album Janet (1993) saw her develop a public image as a sex symbol as she began to explore sexuality in her music. That same year, she appeared in her first starring film role in Poetic Justice and has continued to act in feature films. Jackson then released her sixth studio album The Velvet Rope (1997), which is distinguished for its innovative production and dark lyrical content. By the end of the 1990s, she was named by Billboard magazine as the second most successful recording artist of the decade after Mariah Carey.
Ok. Now that we have the backstory (because when you are a Mother Fucking LEGEND, there's a lot of information to sort through), let's get to the lightning round. DID YOU KNOW:
Janet Jackson has the most albums with five or more Top 10 hits.
She holds the record for the most consecutive top-ten entries on US Billboard Hot 100 singles chart by a female (black/white/whatever) artist?
In 2008, Billboard ranked her 2nd most successful dance club artist of all-time after Madonna (who is dead to me. So that makes Damita Jo No.1. Why do I feel this way about Madonna? I'm glad you asked!)
Her album Janet opened at No. 1 on the Billboard 200, making her the first female artist in the Nielsen Soundscan era to do so.
Jackson's second hits compilation, Number Ones (retitled The Best for international releases), was released in November 2009. The album's promotional single "Make Me", produced with Rodney "Darkchild" Jerkins, debuted in September. It became Jackson's nineteenth number one on the Hot Dance Club Songs chart, making her the first artist (black/white/whatever) to have number-one singles in four separate decades.
Present day: Ms. Jackson is still performing and making movies and being philanthropic AF! Took her some time to get back into music. WHY IS THAT, you ask? I mean, Janet Damita Jo Jackson was doing her damn thang and then all of a sudden…silence. Again. SO GLAD YOU ASKED.
AHEM. Janet was chosen by the NFL and MTV to perform at the Super Bowl XXXVIII halftime in 2004 with surprise fuckboy Justin Timberlake (yeah, I said it). She performed a medley of songs, before singing "Rock Your Body". As Timberlake sang the lyric "I'm gonna have you naked by the end of this song", he tore open her costume, exposing her right breast to 140 million viewers. Both performers apologized, but only one was blacklisted. And ONE went on to perform again in 2018.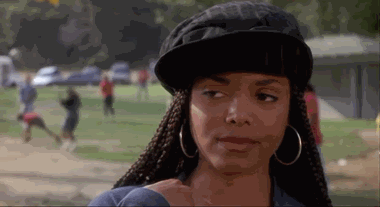 Anyway.
This is how I combined a story about my boobs with Janet Jackson, the Super Bowl, AND Black History. I don't NORMALLY make BHFOTD this long, but sometimes I do. AND I DO WHAT I WANT. You didn't really think I wasn't gonna add my favorite Janet Jackson song, did you? (Also, Janet (her boobs) and her brother throwing up the middle finger is a WHOLE. ASS. MOOD.)
Happy Friday/Black History Month boys and girls!