I started doing these at work for co-workers while I was avoiding ACTUAL work (cough. I'm certainly not doing that now. I am very productive and busy doing work things). Back before my sissie got all fancy, she'd (very) occasionally help me, so y'all would sometimes get them on days when I wasn't workin' away.
BUT THEN, she didn't have time for the riff raff (aka: ME) and I was on my own*. So that means, that I do them when I have time. And my weekends are my own, so when I'm not here, neither or your facts. WOMP WOMP.
This weekend I scooted up to NorCal to hang with The Boy and see friends/go to a concert. I had some downtime/insomnia, so I also watched The Grammy's. Which means that YES I watched Diana Ross wish herself a happy birthday.
Anyway. So 'member when I told y'all that I never know what I'm gonna do my facts on until I start writing them? That is mostly true. Today though, I definitely decided to do a BHFOTD on Motown.
Which. Guys. Motown was originally founded by Berry Gordy Jr. as Tamla Records on January 12, 1959. So, technically, it's Motown's birthday (as sung by Stevie Wonder, Motown artist who was AT the 2019 Grammys)!
:::clears throat:::
Berry Gordy got his start as a songwriter for local Detroit acts such as Jackie Wilson and the Matadors. Wilson's single "Lonely Teardrops", written by Gordy, became a huge success, but Gordy did not feel he made as much money as he deserved from this and other singles he wrote for Wilson. He realized that the more lucrative end of the business was in producing records and owning the publishing. So, in 1959, Billy Davis and Berry Gordy's sisters Gwen and Anna started Anna Records. Davis and Gwen Gordy wanted Berry to be the company president, but Berry wanted to strike out on his own. On January 12, 1959, he started Tamla Records, with an $800 loan from his family and royalties earned writing for Jackie Wilson.
Early Tamla/Motown artists included Mable John, Eddie Holland and Mary Wells. "Shop Around", the Miracles' first number 1 R&B hit, peaked at number two on the Billboard Hot 100 in 1960. It was Tamla's first million-selling record. On April 14, 1960, Motown and Tamla Records merged into a new company called Motown Record Corporation. A year later, the Marvelettes scored Tamla's first US number-one pop hit, "Please Mr. Postman". By the mid-1960s, the company, with the help of songwriters and producers (Did you know that Smokey Robinson – ALSO at the 2019 Grammys – was a producer at Motown? Me either.), had become a major force in the music industry.
Motown specialized in a type of soul music it referred to with the trademark "The Motown Sound". Crafted with an ear towards pop appeal, the Motown Sound typically used tambourines to accent the back beat, prominent and often melodic electric bass-guitar lines, distinctive melodic and chord structures, and a call-and-response singing style that originated in gospel music. In 1971, Jon Landau wrote in Rolling Stone that the sound consisted of songs with simple structures but sophisticated melodies, along with a four-beat drum pattern, regular use of horns and strings and "a trebly style of mixing that relied heavily on electronic limiting and equalizing (boosting the high range frequencies) to give the overall product a distinctive sound, particularly effective for broadcast over AM radio"
More importantly, Motown, an African American owned label featuring mostly black music, contributed to the racial integration of popular music that achieved crossover success.
:::closes Wikipedia tab:::
So anyway. Back to the Grammys. They opened with Camila Cabello (Cuban American) singing her hit single (I guess, chile. I never heard of her before Sunday) "Havana" with surprise guests Ricky Martin (Puerto Rican) and J Balvin (Columbian). Which, also, can we all talk about just how FINE Ricky Martin, remains, ooooo? No. Okay.
There was a Dolly Parton tribute! Honestly, I have always loved her. (heh. It's still black history month y'all. Even though it's been a dumpster fire as of late)
There was also a tiny tribute to Ms. Aretha Franklin, with Yolanda Adams, Fantasia, and Andra Day. [Something Something Full Tribute To Ms. 'Retha Coming Soon ™]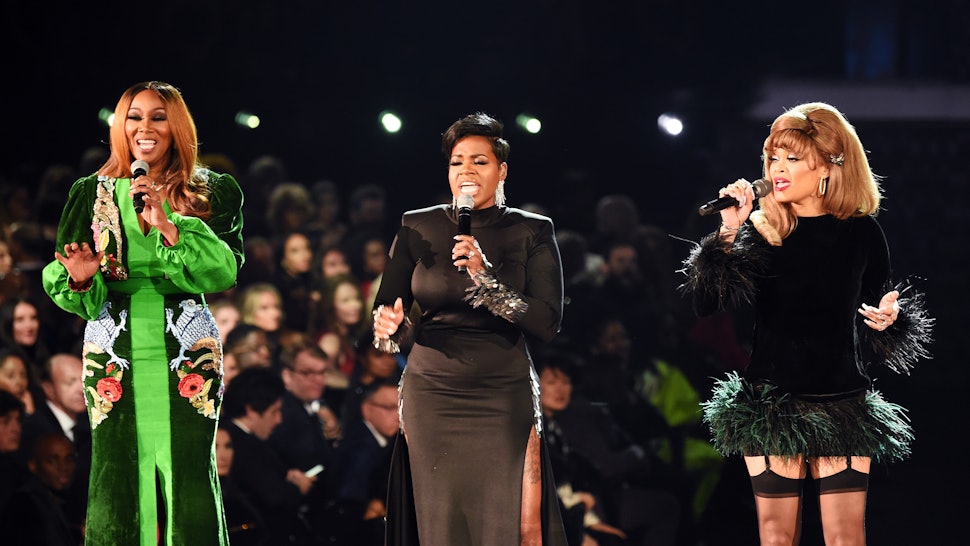 And I was like, WOW. Look at Recording Academy, you guys are really REALLY nailing this tribute/representation in music business! Because Honestly, Yolanda and Fantasia are probably some of the best voices to sing an Aretha Franklin song. Like, WHEW. They can SANG A SONG. (Andra Day was wearing the cutest little outfit too!)
So back to the Motown tribute. I cannot think of a better way to congratulate Motown on 60 years of black music that made bands like The Jackson 5 and Diana Ross (and the Supremes *cough*) household names, and not just "race records", than to do a musical tribute featuring past Motown Artists and new and upcoming black artists singing the songs that made Motown famous. Like, Motown was black owned company in a time when their singers had to use the service entrance, singing black ass songs that your parents (okay, MY parents/your maybe grandparents) grew up on. This was definitely something to honor during Black History Month.
Good job, Grammys!
[mostly black male backup dancers looking adoringly at white Latina]
[only black woman backup singer/dancer]
*yes. I know she wasn't on the Motown label. I don't curr. SHE IS AN ICON. AND I CAN ADD HER WHEREVER I WANT. BUT ALSO: Michael McDonald WAS under Motown at some point, so. I still get this one.